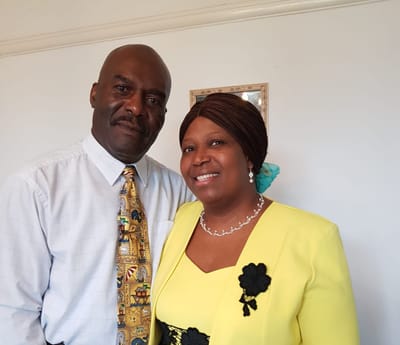 "But none of these things move me, neither count I my life dear unto myself, so that I might finish my course with joy, and the ministry, which I have received of the Lord Jesus, to testify the gospel of the grace of God." (
Acts 20:24
)
We are an up and running pentecostal church in the heart of Bristol. The founders of this ministry are Pastor Elizabeth and Deacon William Brown.
The Ministry was launched on the
6th April 2019
at Fishponds Old Library, Fishponds Road, Fishponds, Bristol BS16 3UH where we meet every Sunday morning for services.
This Ministry was birthed through a vision from God to restore His church and His people. We are a church where lives are restored and given hope again, a church where people worship Him in spirit and in truth.
(
John 4:23
): "The hour cometh, and now is, when the true worshippers shall worship the Father in spirit and in truth: for the Father seeketh such to worship Him.
We are a church where God is gathering up His people from different nationalities.
(
Jeremiah 23:3
): "But I will gather the remnant of my people out of all countries where I have driven them, and bring them back to their folds, and they shall be fruitful and increase."
(
Matthew 16:18
): And I say unto thee, That thou art Peter, and upon this rock I will build My church; and the gates of hell shall not prevail against it.